Raspberry Pi 4 released with 4K and 4GB RAM Support
Raspberry Pi 4 released with 4K and 4GB RAM Support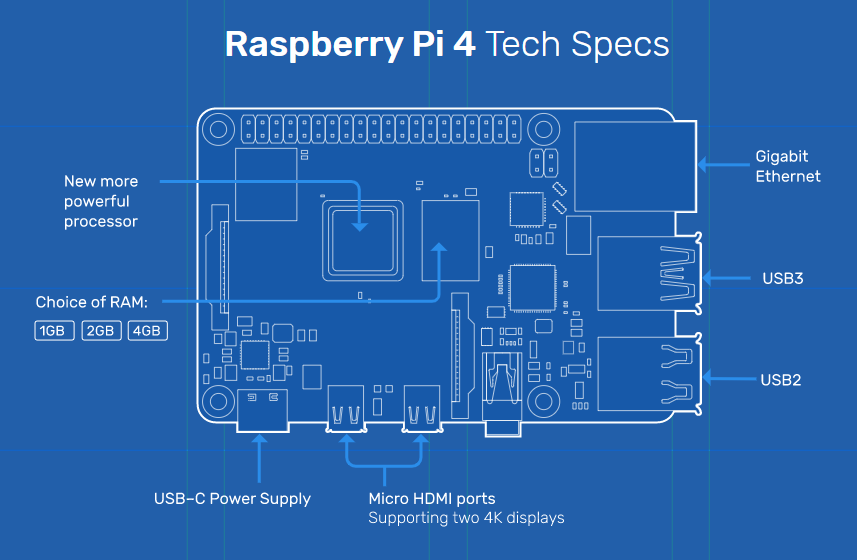 The Raspberry Pi Foundation today (June 24) officially released the Raspberry Pi 4 Model B.
Raspberry Pi is a world-renowned basic computing microcomputer, which is highly sought after by developers, programmers, geeks and other people around the world.
This generation of Raspberry Pi 4 Model B has been developed for 3 years. The memory (RAM) has been upgraded from 1GB to 4GB. The introduction of USB 3.0 supports dual-screen 4K output, and the CPU and GPU are faster. H.265 decoding.
The new Raspberry Pi 4 comes with tons of updates such as a faster CPU and GPU, faster Gigabit Ethernet, dual-band Wi-Fi, twice the amount of HDMI outputs, and two USB 3 ports.
Specifically, the Raspberry Pi 4 core processor (SoC) is Broadcom BCM2711 (quadruple 1.5GHz, Cortex A72 architecture, Raspberry Pi 3 is quad-core A53), LPDDR4 memory, powered by 5V/3A USB-C or GPIO 5V.
Peripheral aspects, support dual-band Wi-Fi, Bluetooth 5.0, provide 2 Micro HDMI 2.0 interfaces (4K 60FPS), Gigabit Ethernet port, MIPI DSI interface, MIPI CSI camera interface, stereo headphone jack, 2 USB 3.0, 2 USB 2.0, the expansion interface is still 40-pin GPIO.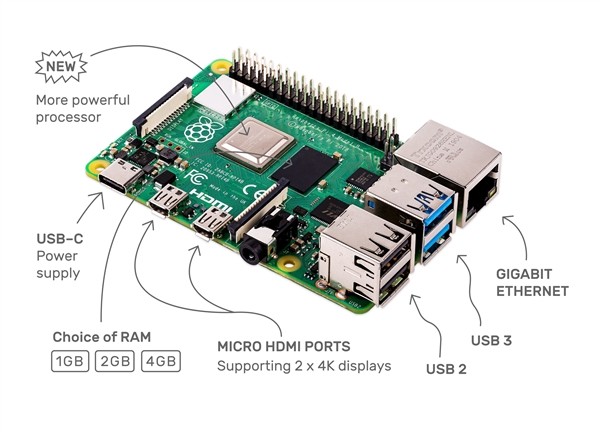 The Raspberry Pi Foundation clams that Raspberry Pi 4 will deliver a complete desktop experience with s single board computer size. Whether you're editing a document, browsing a web-page or opening a bunch of tabs, working on a spreadsheet or drafting a presentation, you'll find this experience smooth and easy to identify – but smaller, more energy efficient and more cost effective.
In terms of price, 1GB is 35 US dollars, 2GB is 45 US dollars, 4GB is 55 US dollars, and the desktop kit with keyboard and mouse, SD card, etc. is also available for £105.
Although the price of 4GB is higher than ever, the Raspberry Pi Foundation co-founder Eben Upton said that the Raspberry Pi is still not profitable. After all, it is unrealistic to achieve 4GB RAM at $35.
When it comes to being able to replace a bulky PC (personal computer), Upton is joking, at least you can throw away your old AMD computer.
In addition, Raspberry Pi 4 will remain in production until February 2026.
from raspberrypi.org
Broadcom BCM2711, Quad core Cortex-A72 (ARM v8) 64-bit SoC @ 1.5GHz
1GB, 2GB or 4GB LPDDR4-2400 SDRAM (depending on model)
2.4 GHz and 5.0 GHz IEEE 802.11ac wireless, Bluetooth 5.0, BLE
Gigabit Ethernet
2 USB 3.0 ports; 2 USB 2.0 ports.
Raspberry Pi standard 40 pin GPIO header (fully backwards compatible with previous boards)
2 × micro-HDMI ports (up to 4kp60 supported)
2-lane MIPI DSI display port
2-lane MIPI CSI camera port
4-pole stereo audio and composite video port
H.265 (4kp60 decode), H264 (1080p60 decode, 1080p30 encode)
OpenGL ES 3.0 graphics
Micro-SD card slot for loading operating system and data storage
5V DC via USB-C connector (minimum 3A*)
5V DC via GPIO header (minimum 3A*)
Power over Ethernet (PoE) enabled (requires separate PoE HAT)
Operating temperature: 0 – 50 degrees C ambient
* A good quality 2.5A power supply can be used if downstream USB peripherals consume less than 500mA in total.